Hangwi Manavhela joins WIFIN's Global Advisory Board
The Women in Finance and Investment Network has announced the appointment of Vhahangwele (Hangwi) Manavhela to its Global Advisory Board.
Women in Finance and Investment Network (WIFIN) is about taking action to bridge a generational gap in our industry. With a global network of women in the Finance and Investment space, female professionals will motivate the next generation of talent to aspire to these roles.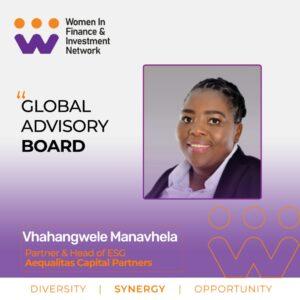 Vhahangwele (Hangwi), currently a Partner and Head of ESG at Aequalitas Capital Partners, has over 20+ years of experience in ESG and Social Impact across Africa.
Hangwi leads the ESG practice at Aequalitas Capital Partners. She works with asset managers, companies and development organisations to integrate ESG, drive compliance, provide training and capacity building in ESG. She established and ran ESG and Impact at Africa's largest asset manager, the PIC, across its diversified investment portfolio (Real estate, private equity and impact investing).
Hangwi previously worked at Tshikululu Social investment management, Care International, and Thohoyandou Victim Empowerment Programme (gender-based violence support). She has served on advisory committees of the Principles for Responsible Investment (PRI), the Sustainability Accounting Standards Board and CFA institute.
Hangwi regularly speaks on ESG panels at conferences globally. She is an Eisenhower Fellow. She holds a Masters in Sociology (social Impact assessment) at the University of Johannesburg, BA (Hons) in Psychology at the University of Venda and University of the North (Limpopo).
The Global Advisory Board is the supervisory Board in charge of overseeing the setup and operations of WIFIN and its networks across member countries around the world.
Commenting on her appointment, "I am extremely delighted to be joining the Global Advisory Board of WIFIN and it will truly be a pleasure to work with the Network".
"WIFIN is set out with a vision much aligned to my own. As a working woman in the Finance sector, I believe more and more women would want to be associated and part of WIFIN as it grows and expand across the African continent and the rest of the world".
Visit www.wifinglobal.org to find more about the Network and the membership benefits offered by the Women in Finance and Investment Network.