Rebecca Sin – Head of Equities, Asia Pacific at TradeWeb, joins the Global Advisory Board of WIFIN
The Women in Finance and Investment Network (WIFIN) has made a major announcement regarding the network's Global Advisory Board.
WIFIN is a network for women by women where the main focus is to address the underrepresentation of women in the financial sector with the hope to evolve the public perception of what female experts in these fields of expertise look like. With a growing membership base, WIFIN is contributing to broadening conversations around diversity and inclusion at the workplace to motivate the next generation of talent to aspire to these roles.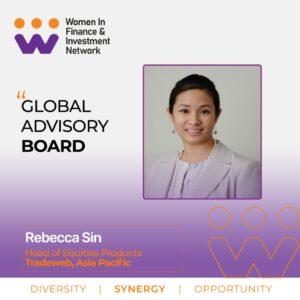 Rebecca Sin is the Head of Equities, the Asia Pacific at Tradeweb. She is responsible for the firm's equity products in the Asia Pacific region. These include exchange-traded funds (ETFs), equity futures/options and convertible bonds.
Previously, Ms. Sin was the head of Commerzbank ETF Sales Trading for the Asia Pacific. She was responsible for supporting and educating clients with respect to the ETF market and the entire spectrum of ETF products, assisting clients in executing trades, and driving the growth of Commerzbank's ETF business and client base in Asia Pacific.
Ms. Sin's career has been spent in London, Tokyo and Hong Kong, and she has experience working as a portfolio manager, market maker and synthetic equity trader. She began her career with Deutsche Bank and also worked for Barclays Capital prior to joining Commerzbank.
On her appointment to the WIFIN's Global Advisory Board:
"WIFIN is a great initiative, and it is my pleasure to be part of this growing family. I strongly believe that fair and equal treatment, as well as the access to opportunities at the workplace, is key to the growth of a business" – Rebecca Sin.
Ms. Sin holds a Bachelor of Science degree from Brigham Young University, majoring in Mechanical Engineering and minoring in Mathematics. She is co-chair of Asia's Women in ETFs (WE), an executive member of Women in Finance Asia (WiFA), on Asia's board of directors for Young Investors Society, and a mentor for the Fruits in Suits (FinS) Association in Hong Kong. She is also chair of Tradeweb's Asia Regional Diversity Committee. Ms. Sin also recently won Best in Fintech Award by Women in Finance Asia. She is passionate about gender diversity and equality.
Visit www.wifinglobal.org to find more about the Network and the membership benefits offered by the Women in Finance and Investment Network.